John Spence Mural at Gordon Neighbourhood House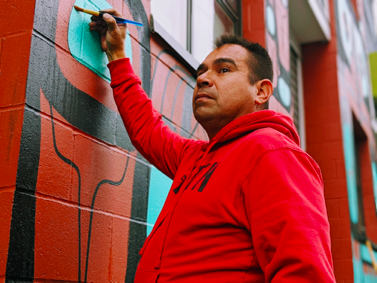 John Spence was born in North Vancouver, and is a member of the Squamish Nation. He is from the Killer Whale clan, and is a grandson of the late Chief Simon Baker (Khot-la-cha). John is a talented wood carver and painter, and this summer he worked with several local youth to paint a mural on Gordon Neighbourhood House depicting three important symbols. 
Thunderbird
The Thunderbird is a legendary and well-respected creature in Squamish peoples' history and culture. Many Coast Salish communities honour the Thunderbird, and have similar stories and teachings. According to Squamish legend, the Thunderbird nested on Mount Garibaldi and was so massive that it fed on killer whales. When the Thunderbird flapped its powerful wings it brought thunder, and by moving its tentacle-like ears it generated lightning. The Thunderbird is considered a supernatural being of power and strength, and a protector of people.
The Beaver
Beavers are large rodents that can be found in freshwater habitats such as rivers, streams, lakes, and ponds. They use their chisel-like teeth to chew through trees to build dams and lodges using logs, branches, rocks, and mud. These dams create new ecosystems such as wetlands which are used by many other species. For these reasons, the beaver is an important symbol for Squamish peoples because it builds communities and sustains ecosystems.
Salmon
The salmon is very significant to Squamish and Coast Salish peoples. Not only is the fish an important source of food, it also feeds the ecosystem. Squamish legends tell that at one time there were no salmon here, and the Squamish people needed to travel to the sea and ask the Salmon people to send some of their people to our local waters. The salmon represents abundance, nutrition, and a healthy community and healthy environment.
Learn more about John's work at Spiritual Creations – By John Spence. For anyone wondering, John does commissions!