Have you always wanted to bake, but weren't sure where to begin? Join us for a free and interactive class to get your bake on! All supplies and ingredients will be provided.
Our next classes take place on Wednesday, June 15th and Wednesday, June 22nd from 11:00-1:00pm. Registration is required. Please call our reception desk at (604) 683-2554 or email welcome@gordonhouse.org to reserve your spot. 
Keep scrolling for a taste of what our baking group whipped up at last weeks class! (recipe below)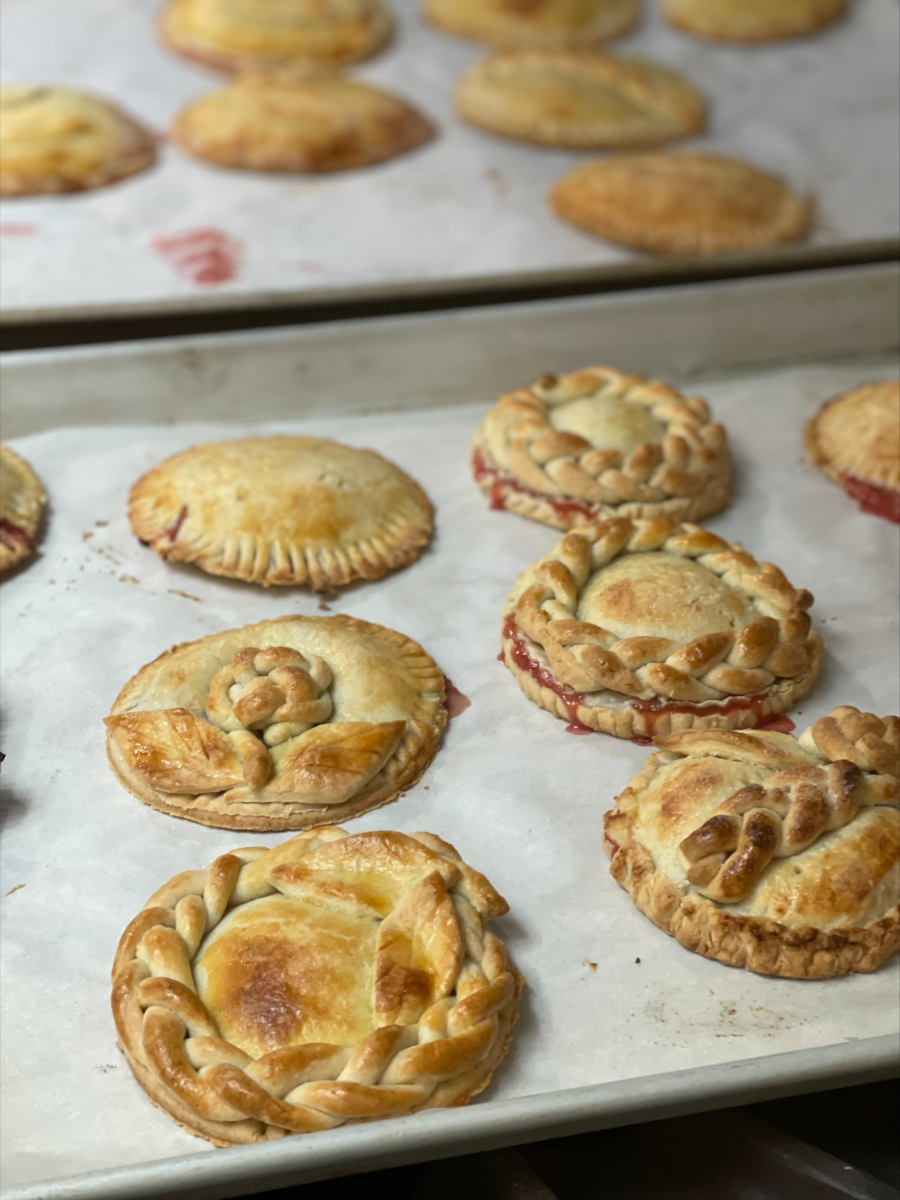 Rhubarb Cheesecake Hand Pies
Ingredients (Makes 3 pies)
200 g rhubarb stalks
3 1/2 tbsp sugar
1/2 tsp orange zest (from 1/4 orange)
1/2 tbsp orange juice (from 1/4 orange)
90 g butter cold
90 g cream cheese cold
1 cup flour
1/4 tsp salt
1/2 tsp sugar
1 oz cream cheese at room temperature
1 1/2 tbsp granulated sugar
Few drops vanilla extract
1 egg mixed with 1 tsp of water
Instructions
1. Preheat oven to 400 degrees.
2. Mix rhubarb stalks, sugar, orange zest and juice in small pot and cook over medium heat until very soft (like applesauce). Set aside to cool.
3. Cut butter and cream cheese into very small pieces (chickpea size) and mix with flour, salt and sugar in large bowl – or if you have – a stand mixer bowl and mix on low (then medium speed) with paddle attachment or by hand without mixer until dough comes together and forms a ball.
4. Prepare cream cheese filling by mixing cream cheese, sugar, and vanilla with a fork until smooth, then set aside.
5. Roll dough on lightly floured surface unit very thin. Use a large (4-5inches) round cookie cutter or small bowl to cut out 6 circles of dough.
6. Place a dollop of rhubarb and a dollop of cream cheese on 3 of the circles, keeping the edges of the dough free of filling.
7. Top each of the filled circles with a dough circle "lid".
8. Use a fork to seal the edges by crimping a pattern firmly all around the edge of the pie.
9. Brush each pie with a little egg wash and optional light sprinkle of sugar.
10. Bake for 25-35 minutes until a golden brown all over.
11. Let cool for at least 5 minutes before eating.
12. Pairs well with whipped cream or vanilla ice-cream. Enjoy!